These tables show you when and which objects are featured, and whether they're only in the FULL version.
Constell

ation

s and Asterisms
Spr

ing

Sum

mer

Aut

umn

Win

ter

Andromeda, the Chained Maiden
Aut

umn

FULL
Aquila, the Eagle
Sum

mer

FULL
Aut

umn

FULL
Auriga, the Charioteer
Spr

ing

FULL
Aut

umn

FULL
Win

ter

Boötes, the Herdsman
Spr

ing

FULL
Sum

mer

Canis Major, the Greater Dog
Win

ter

FULL
Canis Minor, the Lesser Dog
Spr

ing

FULL
Win

ter

FULL
Cassiopeia, the Queen
Aut

umn

Win

ter

Coma Berenices, Berenice's Hair
Spr

ing

FULL
Corona Borealis, the Northern Crown
Spr

ing

FULL
Sum

mer

FULL
Corvus, the Crow
Spr

ing

FULL
Cygnus, the Swan
Sum

mer

FULL
Aut

umn

FULL
Delphinus, the Dolphin
Sum

mer

FULL
Gemini, the Twins
Spr

ing

FULL
Win

ter

Leo, the Lion
Spr

ing

Lyra, the Harp
Sum

mer

FULL
Aut

umn

FULL
Orion, the Hunter
Win

ter

Pegasus, the Winged Horse
Aut

umn

FULL
Sagittarius, the Archer
Sum

mer

FULL
Scorpius, the Scorpion
Sum

mer

FULL
Taurus, the Bull
Win

ter

Ursa Major, the Greater Bear
Spr

ing

Sum

mer

Win

ter

Ursa Minor, the Lesser Bear
Spr

ing

FULL
Sum

mer

FULL
Win

ter

FULL
The Belt Of Orion
Win

ter

The Big Dipper
Spr

ing

Sum

mer

Aut

umn

Win

ter

The Great Square of Pegasus
Aut

umn

FULL
The Little Dipper
Spr

ing

FULL
Sum

mer

FULL
Aut

umn

FULL
Win

ter

FULL
The Northern Cross
Sum

mer

The Pointers
Spr

ing

Sum

mer

Aut

umn

Win

ter

The Sickle Of Leo
Spr

ing

FULL
The Summer Triangle
Sum

mer

Aut

umn

The Teapot
Sum

mer

The Winter Circle
Win

ter
Prominent Stars
Spr

ing

Sum

mer

Aut

umn

Win

ter

Alcor
Spr

ing

FULL
Sum

mer

FULL
Aldebaran
Win

ter

Altair
Sum

mer

Aut

umn

Antares
Sum

mer

Arcturus
Spr

ing

Sum

mer

Betelgeuse
Win

ter

Capella
Spr

ing

Aut

umn

FULL
Win

ter

Castor
Spr

ing

Win

ter

Deneb
Sum

mer

Aut

umn

Denebola
Spr

ing

FULL
Dubhe
Spr

ing

Sum

mer

Aut

umn

Win

ter

Gemma
Spr

ing

FULL
Sum

mer

FULL
Merak
Spr

ing

Sum

mer

Aut

umn

Win

ter

Mizar
Spr

ing

FULL
Sum

mer

FULL
Polaris
Spr

ing

Sum

mer

Aut

umn

Win

ter

Pollux
Spr

ing

Win

ter

Procyon
Spr

ing

Win

ter

Regulus
Spr

ing

Rigel
Win

ter

Sirius
Win

ter

Spica
Spr

ing

Vega
Sum

mer

Aut

umn
Deep-sky Objects (FULL only)
Spr

ing

Sum

mer

Aut

umn

Win

ter

The Andromeda Galaxy
Aut

umn

Win

ter

Coma Berenices constellation / open star cluster
Spr

ing

The Hyades open star cluster
Win

ter

M6 star cluster
Sum

mer

M7 star cluster
Sum

mer

The Milky Way
Sum

mer

Aut

umn

Win

ter

The Orion Nebula
Win

ter

The Pleiades open star cluster
Aut

umn

Win

ter
Here's where we get to share our show philosophy with you, the same way that directors and producers often explain their work on those extended DVD versions of popular movies. Enjoy!
In the beginning...
The original impetus to create these shows came from Garry Beckstrom at the Delta College Planetarium in Bay City, Michigan. He commissioned us to create four seasonal star shows custom-made for his facility, primarily to meet a simple need: he wasn't able to find and train enough staff who would be qualified to present all the shows in their schedule. While pre-recorded star shows may seem anathema to seasoned planetarians who pride themselves on their years of experience presenting "green-arrow" shows, not every show presenter can be on call 24/7... and on top of their game for every audience. Naturally, Garry requested that we include his own star talk favorites and deep-sky objects. After we finished his project, we set out to make "our own" versions.
When we sat down to sketch out the ideas for these seasonal sky shows, we drew not only on our own experiences giving such shows, but the many presentations we've seen (or in some cases, endured) at various planetarium facilities through the years.
We knew we wanted audiences to walk away with the ability to find at least a few of the most prominent stars, constellations, and naked-eye deep-sky objects of the season. And we wanted to provide just the right amount of information and direction in a friendly, approachable way — as if we were standing outside with friends, helping to guide them around the sky.
That's a tall order, when not everyone who comes to the planetarium has the same expectation from their experience. Some people just want to see a nice show. Others want to go out stargazing afterward. Some may want to find out something more about objects they've heard of, like the Orion Nebula or the Andromeda Galaxy. Often, the audience is a school class on a field trip, there to really learn about the stars. Our programs would show to audiences in different places, physically and intellectually — in cities, suburbs, even rural locations; and at all age levels, from grandparents to grandchildren. And they'll show on all kinds of projector systems, in portable domes and large theaters.
Creating shows to bring the skies to everyone, in a friendly, professional manner — we had our work cut out for us.
Starting with Constellations
Most planetarium projectors come with elaborate constellation figures installed. These are almost always based on classical mythology, paying tribute to the way the stars have been woven into our cultural heritage over the centuries. They may be great for star tales, but they're not so wonderful for actually finding things in the sky. When we were growing up, we were always disappointed that we didn't see those gorgeous glowing figures in the real sky. The way we learned the constellations was — like so many others before us — from the books of H. A. Rey, The Stars: A New Way To See Them and Find The Constellations. We always wanted to see Rey's constellation figures used in a planetarium setting, and now we have. One more childhood dream realized!
In our shows, there's no guessing about how to visualize the constellation patterns. We animate the drawing of subtly glowing lines between the stars — as the script says, "like a celestial game of connect-the-dots." Then, we get the outlines out of the way, so viewers can envision the imaginary lines for themselves. No more shaky laser dots wandering across the dome, and no more overlays that don't quite align!
Identifying Objects
Part of the fun of exploring the sky is learning those exotic-sounding star and constellation names. While at once wonderful and new, words like "Cassiopeia", "Arcturus", and "Betelgeuse" can sound like gobbledy-gook to unsuspecting audience members. We provide both aural and visual reinforcement. Throughout our presentations, each constellation and star name is clearly spelled out onscreen, exactly as its name is spoken aloud (and always pronounced consistently). Just like TV news graphics, the words are up just long enough to be read, and then they fade out so as not to distract from the stars of the show, the stars. In addition, we have animated circles drawn around featured stars, and the letters of the star names actually fly out from the stars they're naming. All this makes it incredibly clear to the audience which objects we're talking about.
We employ other visual cues regularly: asterisms are drawn with green lines, to differentiate from official constellations and their names, which appear in blue. Star names are in orange, deep-sky objects in purple. The end result? No ambiguity about which object is being talked about during the presentation, and less chance for confusion about whether we're talking individual stars or constellations.
We've given plenty of the traditional star talks over the years, and there was goodness in that familiar old green arrow. So we even include an occasional green arrow in Seasonal STARGAZING as a sort of "tip of the hat" to our classic planetarium roots. Improving on their predecessors, though, our arrows hit their cues on time, every time, all the time!
Setting the Scene

To enhance the seasonal settings, we commissioned new panorama artwork from Tim W. Kuzniar. He created two characteristic scenes: one a suburban/city locale, and the other a rural countryside. Then, he dressed them with the accoutrements of the seasons — patches of snow and bare trees in winter, fall color foliage for autumn, fully leafed-out greenery in summer.

These scenes also provide great "grounding" for directions when we rotate the sky (we do provide onscreen cardinal points, too!). Above all, though, the panoramas simply set the scene unobtrusively, and let the audience focus on the stars above!
Treating the Ears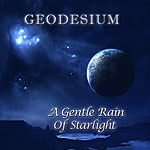 Of course, the music complements and completes the scene. We got our start with planetarium music, and with Seasonal STARGAZING, you'll provide your audiences with some of the newest, freshest sounding Geodesium music ever, much of it created in 2006. You'll find it on the Geodesium album A Gentle Rain Of Starlight.
Great Star Shows... Done Right!
These are star shows done the way we've always dreamed about: with great voices; spot-on accurate pointer cues, and really LEARNING stars and constellations with eyes and ears. We hope you, your show presenters, and most importantly, your audiences enjoy them for years to come!