How do you handle updates for the latest discoveries?
SHORT ANSWER: We don't. You may.
LONG ANSWER: Fortunately, as of this writing, Hubble is still operating and providing lots of new pictures and science. But while we can use Hubble to look back in time, we have nothing that allows us to look forward into the future.
It would be impractical for us to record new narration and change the entire show with every HST press release. And, we can't simply toss in newly released images into the existing package, because the show's narration naturally won't describe and explain them.
So, in pre-show welcoming remarks to the audience, we suggest that planetarians include words to the effect:
"HUBBLE Vision is an overview of the most significant images and discoveries made since the telescope was launched. It was produced in the spring of 2004. But the mission is still continuing. I'll be back after the program is over to show you some brand-new images I just downloaded from the Space Telescope Science Institute."
Then go for it!

---
What do you say about the end of the mission?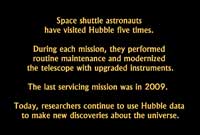 SHORT ANSWER: Nothing, in the narration; there's a generic HST Status text at the show's end.
LONG ANSWER: As of this writing, Hubble's ultimate fate has yet to be determined. While we hope it doesn't come to a premature conclusion, the situation will undoubtedly develop in ways we can't predict.
So, at the end of the show's narration, before the credits, we've provided an HST Status text display — like this one. When and if significant events warrant, we'll simply change the wording of the text. Customers should contact us to replace their show.

---
What's the most recent picture included with the show?
ANSWER: The Ultra Deep Field, released 9 March 2004.

---
Why does the narrator refer to Pluto and Charon as a double planet? What about the 2006 IAU ruling?
ANSWER: When we wrote the first script for HUBBLE Vision, the term "double planet" was just coming into vogue among astronomers. It was a sort of shorthand for the fact that Pluto and Charon interact more like two small planets together rather than a planet and its moon.
The argument for the term double planet is largely based in the characteristics and dynamics of the system. Pluto's diameter is 2,272 km, Charon is 1,212 km. That makes Charon half of Pluto's size; its mass is roughly 12-14 percent of Pluto's (the Earth-Moon system ratio is roughly 0.012). This affects their orbital interactions. When the center of mass of a double or binary system is not located under the surface of either object, then both are in orbit around that center of mass, the barycenter. This is the case in the Pluto system.
Here are some citations; each has some variation of the double planet theme in their explanations:

http://airandspace.si.edu/exhibitions/exploring-the-planets/online/pluto/pluto_atmos.html

http://www.daviddarling.info/encyclopedia/D/double_planet.html

http://hubblesite.org/newscenter/newsdesk/archive/releases/1990/14/image/a

http://www.seds.org/nineplanets/nineplanets/pluto.html

http://adsabs.harvard.edu/abs/1983ApJ...267..872T

http://adsabs.harvard.edu/abs/1999DPS....31.2903S

http://adsabs.harvard.edu/abs/1997hst..prop.3569T

http://www.nature.com/nature/journal/v439/n7072/abs/nature04351.html
Although in 2006 the IAU re-defined Pluto as a "dwarf planet", our script actually talks about something else. It says: "In 1978, Pluto was discovered to be a 'double' planet, with its companion, Charon." This is still perfectly true; in 1978, Charon's discovery did indeed alter Pluto's single status. This historical event we report is (and will remain) unchanged.