Labels for Wess Slide Mounts
Now here's an esoteric specialty item.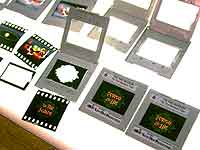 At Loch Ness Productions, we used to go through lots of Wess slide mounts. And on every mount we assembled, we applied two labels in the recessed label areas designed for the purpose.
When Wess Plastic became BCA Manufacturing, they stopped supplying the QI-9003V labels we used to order from them. That left us hanging. We found no other source, so we contacted a label company, had a custom die made, and were once again able to affix labels to our slides.
We think our labels work better than the old Wess labels, because we took the opportunity to modify their original design. For starters, we changed to standard 8.5 by 11-inch white laser label sheets, to replace Wess's continuous tractor-feed perforated stock.
We also shortened the width of the labels a bit. The extruded number in the right corner of the Wess mount label area would keep their label from laying flat. Over time, the label would curl and peel back, causing the slide to stick in the tray and jam the projector. Our new labels are shortened just a little bit, to avoid overlapping that pesky "002"!
The new shorter labels allowed us to fit them in 5 columns, 40 rows on a page, for an even 200 labels per sheet, compared to the spread out 4-up, 132 label Wess layout. Our manufacturer assures us the permanent adhesive will hold up to temperatures of 200° F. If your slide gets that hot, the label will probably be the least of your problems. The paper is not certified archival-quality, just regular laser (not inkjet) printer stock.
So if you're looking for a replacement for the old Wess labels, we have good news and bad news. The good news: we've got something that we think works even better. The bad news: you'll have to redo all your templates, because our labels are not the same size and layout of the discontinued Wess product.
We don't have many sheets left in inventory, and when what we have is gone, that will be the end for this product. So if you think you may have a need for these, get 'em while you still can.