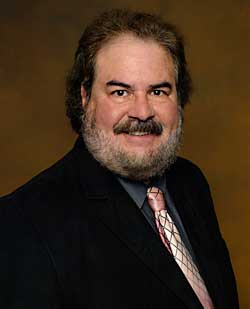 E-mail:
Mark C. Petersen is president and founder of Loch Ness Productions.
He is a long-time producer of fulldome and classic planetarium shows, broadcast and online videos, and has more than three decades of experience as soundtrack producer and space music composer. Recent fulldome projects include collaborating with Antares FullDome Productions to introduce three of their shows to American audiences; a multi-year effort to remake LNP's classic planetarium presentations into fulldome videos; and has been working with producers around the world to make LNP's fulldome shows available in additional languages and resolutions. He has released twelve Geodesium albums of planetarium space music.
As part of Loch Ness Productions' expansion into other areas of astronomy outreach, Mark co-produced (with Carolyn Collins Petersen) an eight-part vodcast series called Space Weather FX for a NASA-funded Loch Ness Productions-MIT Haystack Observatory project, as well as a 10-minute video program about the Mileura Widefield Array. He recorded soundtracks for animations included with Seeker and TheSky, astronomy software programs created and produced by Software Bisque.
Mark maintains the world's most extensive database of domed theaters and fulldome presentations. He makes a subset of that data available here on this Web site. He also periodically publishes a State of the Dome Address, detailing the current state of the domed theater community.
Mark's degree is in Music Education from the University of Colorado. In 1975, he became the Composer-in-Residence at Boulder's Fiske Planetarium. After many pleased planetarium patrons requested the music they had heard during the programs, Mark released the first of a series of albums using the nom-de-plume Geodesium — a name now synonymous with planetarium music. Tens of thousands of his albums have been sold around the world, receiving airplay on syndicated radio programs such as "Music From The Hearts of Space", "Musical Starstreams" and "Echoes". In 1995, CNN's "Showbiz Today" featured Mark in a segment on planetarium space music.
Mark has also created original music and custom soundtracks for major planetaria, Sky-Skan, Evans & Sutherland, NASA News Net's coverage of the Voyager encounters, and video press and Web releases as well as the popular exhibit "ViewSpace" from the Space Telescope Science Institute. For Caedmon Records, he produced a 20-minute "Comet Halley" soundtrack for worldwide distribution. In 1985, 1987, and 1988, he took his keyboards on the road, performing in live planetarium concerts in the U.S. and the U.K. Mark has also worked with advertising agencies, film, video, and multi-image producers on radio and TV commercials, jingles and other projects.
Mark produced the video program "HUBBLE: Report From Orbit", which was awarded First Prize in the Casa de las Ciencias (La Coruña, Spain) Sixth Contest for Science Publications in 1993.
Mark served as President as well as Secretary/Treasurer of the Rocky Mountain Planetarium Association (1983-87), and instituted the publication of its quarterly journal, the High Altitude Observer. A Fellow of the International Planetarium Society, he was elected Treasurer and Membership Chairman, and served on the Executive Council from 1985 to 1990. He personally undertook the development and annual publication of the IPS Directory of Planetaria and Planetarians.